Business Hotel in Ulysses, KS
Impeccable surroundings and indulgent amenities create the perfect traveler's retreat. At Corporate East Hotel, you'll enjoy comfort and convenience. We proudly offer rooms for every business traveler or tourist, from double queens, to luxury suites, to an 1880s style theme room. We love to spoil our guests at our corporate hotel!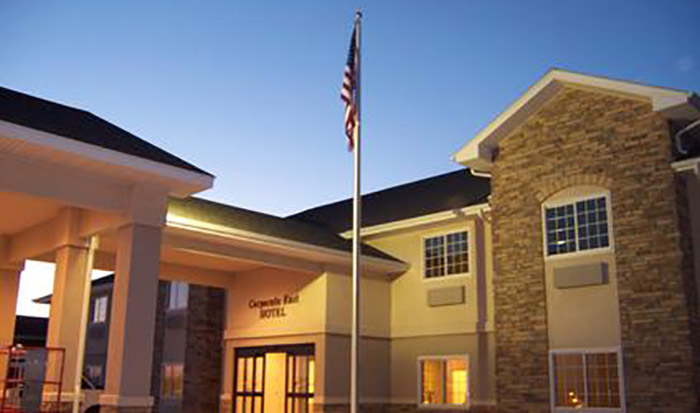 Enjoyable Amenities
Step into immaculate surroundings at a luxury hotel. Independently owned and operated, we proudly offer a broad selection of 43 rooms to meet the needs of every traveler. If you desire simple but impeccable accommodations, we can provide one of our standard rooms. For those who are looking for something a little more luxurious, we offer a variety of suites. Every room includes a 32" flat-screen TV with cable and HBO, a Keurig coffee maker, iron and ironing board, walk-in shower, desk and free Wi-Fi. This creates the perfect setting for business travelers seeking both comfort and convenience. Why would you stay in any other business hotel in Ulysses, Hickok, Ryus, Grant County, and Stano, KS? Corporate East Hotel has everything you need and more.
At Corporate East Hotel, we maintain high standards of cleanliness, security and, of course, rest. Our facility is non-smoking, and we strictly enforce a "no pet" policy. (Smoking is permitted on our patio and at all exits.) Keyless entry for each room and a well-lit parking lot offer added safety and convenience. We know what you ultimately want is a good night's sleep, so we provide inviting beds where you'll enjoy comfortable slumber. You'll also enjoy free hot breakfast each morning, and access to our exercise room and business center. In need of laundry facilities? We have those, too. Business travelers also love our extended-stay hotel for our corporate accommodations and next-door tavern and restaurant. Beyond regular rooms in Ulysses, KS, we offer meeting rooms free for guest use. If you are from either Lakin or Hugoton, KS we also welcome you to use our corporate hotel when traveling for business. Our business hotel has it all. Book your room today to enjoy all our amenities:
We offer 43 rooms including standard, suite and a themed Pioneer Room.
You'll enjoy free hot breakfast every morning.
Every room includes free cable, HBO and Wi-Fi.
Our extended-stay hotel includes meeting rooms for up to 45 people.
We offer a business center, exercise room and laundry facilities for the corporate traveler.
Reserve Your Room Today
Contact our luxury hotel to book one of our popular suites or reserve a spot for your next business meeting.
Contact Us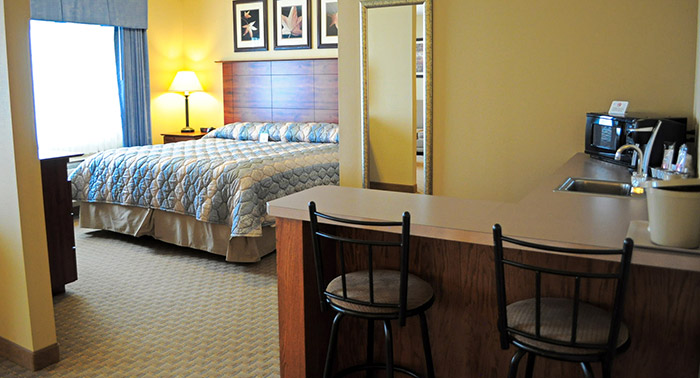 Providing luxury hotel accommodations and suites to Ulysses, KS and the surrounding areas including:
Grant County, KS
Johnson City, KS
Hugoton, KS
Lakin, KS
Syracuse, KS
Sublette, KS
Satanta, KS